Release Blitz + Review: All the Love in the World by Karina Halle
**ARC provided in exchange for an honest review**
A Christmas Cartel
is the first story in the anthology featuring drug lord Javier Bernal and Luisa from the Dirty Angels Trilogy. Luisa wants a proper Christmas for their son Vicente, because Javier was absent for his first one. It was awesome to be reunited with my favorite couple. I really enjoyed this story and wouldn't have minded it being longer. It showed that Javier was still his dark and ruthless self which I loved. This was a nice Christmas story that also opens up a possibility to a spinoff, which I am praying will happen one day.
The Off-Season features characters from Love in English, The Forbidden Man, & The One That Got Away. The story is told from Mateo and Vera's POV, I haven't read their story yet, but this story definitely intrigued me enough to pick it up soon. It was nice being reunited with other characters I have read and enjoyed before. This was a nice fun short story that fans of these books will enjoy.
Arrow Through the Heart features characters from The McGregor Brothers Series (The Pact, The Offer, The Play, The Lie, and The Debt). The story is told from Lachlan and Kayla POVs. This was a bit more of an emotional read than the previous two stories, but I thought it was a great addition to this anthology. My heart broke for Lachlan when I saw how much it still hurt him when he was confronted with his mom who gave him away. Kayla was just perfect and I loved how caring and supportive she was of Lachlan. It was great seeing all the characters from the series coming together. This short story really makes me want to reread The McGregor Brothers Series.
Ghosted features characters from the Experiment in Terror Series, Veiled and The Devil's Duology. And this story is told from Dex' POV. It was so awesome to be back in this amazing world Karina has created. I was very excited to see what my favorite characters were up to. Even though it has been a couple of years since I have read the EIT series it felt very familiar and it was like being reunited with family. Dex and Perry are such a great couple, and I loved seeing how they were doing. They have fears and doubts about things and I can't wait to see how Karina will explore this more in their upcoming (full-length) book!
A Nordic New Year
features characters from The Nordic Royals Series. This was a light, fun and sexy story. All the royals come together to celebrate the new year, and it was awesome seeing them let loose and just enjoy without people judging. The story is told from multiple POVs, which was nice and we were able to see what the characters were up to nowadays.
Meet Karina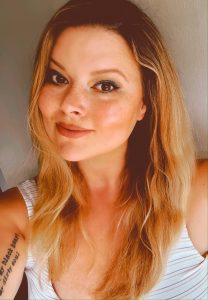 Karina Halle is a former travel writer, music journalist & screenwriter, and The New York Times, Wall Street Journal & USA Today Bestselling author of over 55 bestselling novels, ranging from horror and suspense to contemporary romance. She lives on an island off the coast of British Columbia with her husband, and her adopted pitbull Bruce, where she drinks a lot of wine, hikes a lot of trails and devours a lot of books.


Halle is represented by the Root Literary Agency and is both self-published and published by Simon & Schuster, Hachette & Montlake. Her work has been translated and published in 20 languages.


Hit her up on Instagram at @authorHalle, on Twitter at @MetalBlonde and on Facebook. You can also visit www.authorkarinahalle.com and sign up for the newsletter for news, excerpts, previews, private book signing sales and more.