Review: Where the Forest Meets the Stars by Glendy Vanderah
In this gorgeously stunning debut, a mysterious child teaches two strangers how to love and trust again.
After the loss of her mother and her own battle with breast cancer, Joanna Teale returns to her graduate research on nesting birds in rural Illinois, determined to prove that her recent hardships have not broken her. She throws herself into her work from dusk to dawn, until her solitary routine is disrupted by the appearance of a mysterious child who shows up at her cabin barefoot and covered in bruises.
The girl calls herself Ursa, and she claims to have been sent from the stars to witness five miracles. With concerns about the child's home situation, Jo reluctantly agrees to let her stay—just until she learns more about Ursa's past.
Jo enlists the help of her reclusive neighbor, Gabriel Nash, to solve the mystery of the charming child. But the more time they spend together, the more questions they have. How does a young girl not only read but understand Shakespeare? Why do good things keep happening in her presence? And why aren't Jo and Gabe checking the missing children's website anymore?
Though the three have formed an incredible bond, they know difficult choices must be made. As the summer nears an end and Ursa gets closer to her fifth miracle, her dangerous past closes in. When it finally catches up to them, all of their painful secrets will be forced into the open, and their fates will be left to the stars.
FREE in KindleUnlimited!
What an original, beautiful, and emotional story. I absolutely loved it and it is definitely one of my favorite reads of the year. This is Glendy Vanderah's debut novel, and I am already very excited to see what kind of story she writes next. I loved everything about this book, from the setting to the characters and the mystery of it all. I had no idea what to believe and what would happen next, but I knew that I was in for a wild ride. First of all lets talk about the main characters Joanna (Jo), Gabriel (Gabe), and Ursa. Jo is researching nesting birds in rural Illinois and one day comes across a young girl who calls herself Ursa. She says that she is an alien and came to earth to witness five miracles. Of course who would believe such a story, but honestly further into the book I wasn't so sure about things anymore. Gabe and Jo take Ursa under their wings and make sure she is cared for, and also try to figure out where she came from. The bond between these three characters was beautiful, and I fell in love with them over and over again. All three of them have been through some hardships, and try to live the best way they can.
This book was such a pleasant surprise and I am so happy I saw it being recommended on my Facebook timeline. This book was suspenseful, mysterious, emotional, romantic and full of love and acceptance. The characters growth for all of them was amazing, and I loved seeing them blossom. I really think this book is one of a kind, and I loved how original it was. I just couldn't get enough, and was sad when I got to the end of the story. I love these characters and I am going to miss them. Where the Forest Meets the Stars is a book I would definitely reread over and over again. I am keeping a close eye on this author and make sure I don't miss her next release.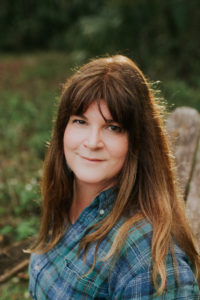 I grew up in Chicago, Illinois, the daughter of two public school teachers. A born naturalist trapped in a big city, I studied every creature of my parents' tiny, wild-grown backyard. Reading, especially animal stories, was an equal passion that led to my love of writing.
Realizing a childhood dream, I left the city to major in Ecology, Ethology and Evolution at the University of Illinois in Urbana. In field biology courses, I discovered my compulsion to catch snakes and salamanders wasn't as weird as I'd thought. During one of those classes, my first wobbly view of a vivid blue Indigo Bunting through binoculars was the moment I decided to focus on avian biology.
While working as a field biologist, I studied writing, poetry, and literature for several years. But birds eventually won over writing, and I completed a Master of Science degree. My thesis topic focused on another gorgeous blue bird, the small but magnificent Cerulean Warbler.
I have worked as an endangered bird specialist, and also served as an assistant editor for a scientific journal. I married an ornithologist who fully understands my nature-nerdiness. We left Illinois when he accepted a position at University of Florida. Since we moved, raising three children and having little time for biological work has brought me back to writing. We now live in the Florida countryside with as many birds, butterflies, and native flowers as we can lure to our little wildlife sanctuary.