Release Blitz + Review: What Lies Between by B.N. Toler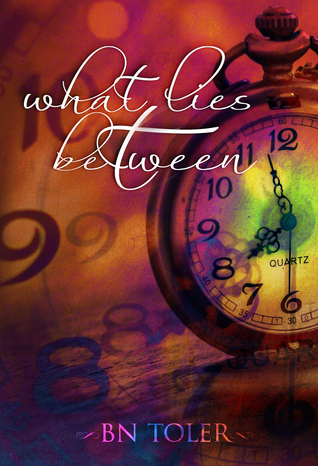 What Lies Between is the follow up novel to Where One Goes which is available now with a new cover.
At the core of it, life is a test—an opportunity to prove who we are; what we're really made of. Short as it was, I'd like to think I lived my life well, that when people remember Ike McDermott, they remember he was a good man. When I look back, I'm proud of who I was.

Leaving behind the woman I loved was the hardest thing I'd ever done, and finding peace with the knowledge she was building a life with my brother after I moved on took a strength I didn't know I had. But George and Charlotte were still alive. I wasn't. Together, they forged on, and I was okay with that because I knew, one day, Charlotte and I would be reunited.

One day she would be mine.

All I had to do was wait.

Time works differently in the afterlife. Without any ties to the living, it doesn't so much as slow, but stop altogether. There is no worrying about what is to come, there is only what is.
I didn't know if four days, or fifty years had passed when I found Charlotte by our tree in my corner of the other side. All I knew was she was here, and I would never have to let her go. I finally had my reward for the life I'd lived.

But I'd soon learn Fate had other plans, and everything I believed about who I was would be tested once again. Only this time, I wasn't so sure I could stay strong.

This time, I wasn't sure I could be a good man.
**ARC provided in exchange for an honest review**
"Love is terrifying. It has the power to seep its way through your body like heroin, giving you the most exquisite high, or blaze you over and scorch you to ash."
When I found out that B.N. Toler was writing a follow-up novel to one of my favorite books, I was out of my mind excited. However, with sequels it can go either way: you either end up loving or hating it. I really didn't want to be disappointed, but I just had to have faith that the author would do justice to these amazing characters. I didn't know which direction the story would take, however I was expecting some major heartbreaking scenes. When I read the blurb I got really nervous, I didn't know what to expect and that got me a bit scared. I am going to keep this review pretty vague, because I don't want to spoil anything. I'll just talk about how this story made me feel.
"Love isn't getting your happily ever after. Love is being willing to sacrifice your own happily ever after in order for the one you love to find hers."
Charlotte is a determined person, and not being able to do something she sets her mind to, breaks her heart and makes her feel helpless. George, seeing how difficult this is for her, can do nothing but be supportive. He can't really imagine how Char feels, but he will do anything in his power to bring her back up when she feels broken. I loved seeing these two interact and how their relationship had grown since the last book. However, I don't think I saw enough of that, so that left me a bit wanting more. Like the previous book the paranormal aspect was done perfectly, and I was really engaged in the story. There were more than a couple of scenes where I just couldn't contain my tears, so keep tissues close by! There was one particular character, who I really hope will get her own book, because I am intrigued by her. Simply put I loved this book. The writing was great, and I loved how the story was out together. It gave it a bit of a mystery feel, which I loved. I couldn't wait to be reunited with all the amazing characters, even though it would be hard to say goodbye again at the end.
Make sure you read Where One Goes first!
ABOUT THE AUTHOR
B N Toler lives in Virginia. When she's not reading and writing, she's thinking about reading and writing. Before she became a self-proclaimed writer, she worked as a real estate agent and as an orthodontic technician. **She will notice your teeth before your eyes or hair or anything.**
She enjoys shopping (way too much) and is on a first name basis with several employees at the local Target in her town.
She loves music,(bluegrass, country, 80's, actually she loves most music ~her favorite song is American Pie by Don McLean and she worships anything that is Elvis and Johnny Cash and Eric Church) dancing, (even though she sucks at it)reading, writing, eating (too much) sleeping late, (which she rarely gets to do) and laughing. If you can make her laugh, she will love you forever.
Facebook | Twitter | Website | Goodreads | Instagram