Review: Face Off by Brenda Novak
From New York Times bestselling author Brenda Novak comes Face Off, the next installment of Dr. Evelyn Talbot and her murderous home for psychopaths.
SHE VOWED NEVER TO BE A VICTIM AGAIN. BUT NOW A KILLER HAS HER IN HIS SIGHT…
Tortured and left for dead at sixteen, Evelyn Talbot turned her personal nightmare into her life's work—studying the disturbing psychopathy of some of the world's most vicious serial killers. Now a leading psychiatrist at Hanover House in a small Alaskan town, she tries to believe the past will never come back to haunt her—until a woman goes missing from a cabin nearby, and every clue points to the man who once brutalized her…
As her boyfriend, who is the area's only police, begins to investigate—and finds not one but two bodies—Evelyn can't forget that her would-be killer, Jasper Moore, was never caught. But there are no new faces in tiny Hilltop, no one who seems suspicious or potentially violent. In this twisted game of cat and mouse, Evelyn is certain of only one thing—Jasper must be hiding in plain sight. And if she can't find him before he comes for her, she won't be lucky enough to survive twice…
Brenda Novak has done such a phenomenal job with this series. I have been on the edge of my seat the entire ride. This book, like the previous ones, has been very unpredictable and full of twists. I love Thrillers and Romantic Suspense novels, and Brenda Novak is definitely an amazing author who can write really gritty and dark stories. She is no rookie in this genre, and I am not one either as a reader. I have read a lot of thrillers, so my expectations are pretty high. And Brenda has met every one of them. The villains were really evil, and I was intrigued by them just like Evelyn. I am pretty interested in how the minds of serial killers work, so I love reading about them in both fiction and non-fiction books. So any Thriller/Romantic Suspense book about serial killers will catch my attention. I just can't get enough of this series and awesome characters. I feel such a strong connection to Evelyn and Amarok , and I just loved seeing how much they have grown throughout this series.
Face Off was another perfect addition to this series, and I wouldn't change one thing about this book. I thought for sure that Face Off was the last book in The Evelyn Talbot Chronicles. But imagine my surprise when I got to the end and saw an excerpt from the next book. Why did I think that this would be the last book? Because the whole series has been a build-up to this book. Evelyn will finally come face to face with the person who tortured and left her for death. How do I feel about this book not being the end? I don't know yet, it will depend on which direction the author will take this series in the upcoming books.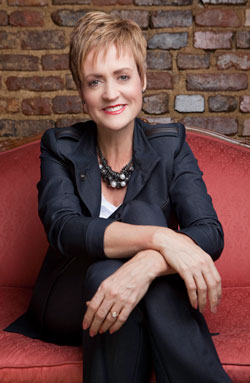 Brenda and her husband, Ted, live in Sacramento and are the proud parents of five children—three girls and two boys. When she's not spending time with her family or writing, Brenda is usually raising money for diabetes research. Her youngest son, Thad, has diabetes, and Brenda is determined to help him and others like him. She also enjoys traveling, watching sporting events and biking–she rides an amazing 20 miles every day!