ARC Review: To Catch a Texas Star by Linda Broday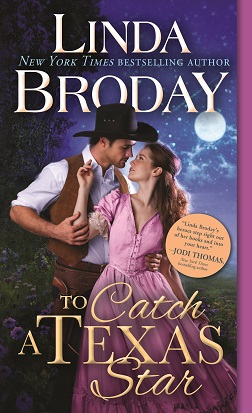 Series:
Texas Heroes #3
Genres:
Historical Romance, Western
Publication Date:
July 3, 2018
He'll do what it takes to prove his love...
The son of a notorious outlaw, Roan Penny yearns to make his life count...but heroism comes with a price. Left badly injured, only the kindness of a gentle stranger can save him. He longs to be with the captivating beauty―his savior, his Texas star, his Marley Rose McClain―but he knows he'd bring her nothing but trouble.
If only he could convince his heart of that.
Marley's lived a charmed life, and she's determined to spend the rest of her days at her quiet hero's side...but she isn't what she seems. A life-long secret threatens to destroy everything she knows―and everything she could hope to be. As dangerous men threaten to pull her back into the shadows, a desperate Roan must ride hell-bent for leather to save the other half of his heart...before he can lose her light for good.

PREORDER NOW:
EXCERPT
Unable to bear the torture any longer, Roan whirled and crushed his lips to Marley's.
A hunger so powerful that it hurt to breathe spread through him, rushing along his limbs and touching off a whirlwind inside him. He stood in the storm and let the emotion wash over his body, healing his ragged spirit and muzzling his fear.
A raspy moan escaped from him. His heart beating like a thundering herd of buffalo, he held Marley so tightly against him that he expected her to complain. If he could somehow open himself up and draw her inside, he would. He'd protect her with every bit of strength he had, and carry the beautiful woman with him forever.
Dear, God, he wanted her. Wanted her more than anything in the world. His hands roamed over her curves, memorizing every indentation and soft swell. She seemed to be learning every inch of his body as well, and the way she clutched, kneaded, and caressed him spoke of a great need of her own.
The air seemed to vibrate with this craving that swept through him. His senses filled with her, Roan deepened the kiss and backed her against a work table where they repaired harnesses and saddles. Tightening his grip, he lifted her onto the planks. She knocked off his hat as she reached for him and it tumbled to the floor. He ran one hand up her leg and didn't think he'd ever felt anything so soft, so satiny, so enticing.
His heartbeat roared in his ears and drowned out everything except this overpowering desire for her.
How long they stood wrapped in each other's arms, he didn't know. He was barely conscious of where they were, or of the dawn breaking. Men and children would spill out any second and find them.
It took everything he had to remove his hand from her leg and break the kiss. He tenderly brushed a tendril of hair from her eyes and studied her dark eyes. "You're like those shooting stars we watched. You blaze across a man's life with such a streak of color and pageantry it steals a man's breath. You're my Texas star, Marley Rose McClain. That is if you don't object to the title."
His Texas Star. That was exactly what she would always be.
Marley's breath hitched. "That's beautiful. I've never been compared to a shooting star before."
"Well, you are. I don't know what the future holds or if I'll ever see you again," he mumbled against her mouth. "Keep shining, Texas Star, for as long as you live."
Marley's glistening gaze met his and she ran a fingertip along his jawline. "No promises, no regrets."
"None." The rooster finally crowed, reminding Roan he'd best hurry. He grinned. "Maybe you'll write a story one day about me and how you saved my life one frosty morn."
Tears bubbled in her eyes. "You'd better come back or I'll come looking for you."
"I'll brave a den of snakes and go through a hail of bullets to get to you, and you can count on that." Marley straightened his collar and picked a piece of lint from his coat. "You're a handsome man, Roan Penny. Women are going to chase you, but it doesn't mean you have to let them catch you." Her voice broke.
Roan swallowed a lump in his throat. This was tearing him up inside.
With a cry, she tangled her fingers in his hair and pulled him close for another kiss.
"I'll pray for you, Roan," she whispered.
"Save your prayers for those who believe in their power."
Before the banked fire had a chance to flare again, Roan stepped away from her and issued a stern warning. "Don't come after me. I mean it. You don't know the danger waiting in San Saba. If they knew I cared for you, they'd kill you. Promise you'll stay here. You have to promise not to come after my sorry hide. Go on with your life."
Marley shook her head, her dark eyes large in the low light. "I can't do that."
"Maybe her need to fix this stranger was because she had been the one to find him, and that made this connection so strong. All Marley knew was that she had to be the one to care for him."
I absolutely love historical western romances, and have read many of them over the years. I became a fan of Linda Broday's writing and story-telling after reading the first two books in the Texas Heroes series. So I didn't hesitate when I had the opportunity to read To Catch a Texas Star. This book focuses on Marley Rose, who was introduced in Knight on the Texas Plains as the baby that was won by Duel in a poker game. I loved her in that book, so I was really excited when I found out that this book was about her. She was raised by amazing parents (Duel and Jessie), and I was glad that they played an important role in this book as well. It was great to be reunited with them, and see what they had been up to.
"You're like those shooting stars we watched. You blaze across a man's life with such a streak of color and pageantry it steals his breath. You're my Texas star, Marley Rose McClain."
The other main character is Roan Penny. I loved him from the start and knew he would be a great hero. I enjoyed seeing the connection between him and Marley develop. It was beautiful seeing how these two got along, and how they inspired each other. This book was so much more than just a romance. It was fun, suspenseful, emotional and action-packed. There was even a bit of mystery the characters were trying to figure out. Everything came together perfectly and I think this book was a great way to conclude this awesome series. This book is longer than what I usually read, but it didn't feel long at all. The author used every page resourcefully and made sure that the reader was engaged and hooked until the end.
I live in the Texas Panhandle on land they call the Llano Estacado where the Native Americans once roamed. History is so thick here with the ghosts of the people who settled this land. I love writing western historical romance and can't imagine writing anything else. I love a man in a Stetson and tight pants. Oh man! Those cowboys sure make my heart beat faster.