Release Day Review: The Cowboy Who Came Calling by Linda Broday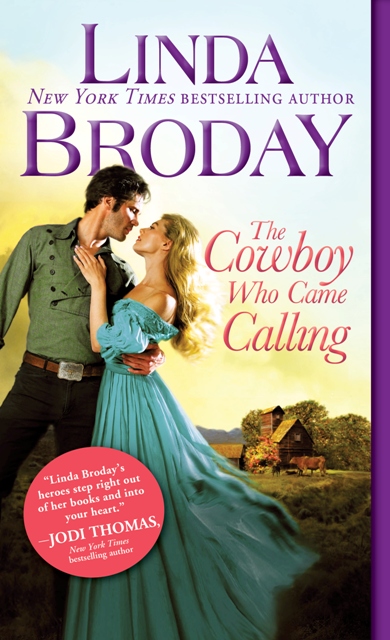 Series:
Texas Heroes #2
Genres:
Historical Romance, Western
Publication Date:
February 6, 2018
A Former Texas Ranger on a mission
A determined woman slowly losing her sight
A love neither could have predicted
...and a danger that may steal their happy ending before it can even begin.
Glory Day may be losing her vision, but that doesn't mean she'll ever stop fighting. Determined to provide for her struggling family, she confronts an outlaw with a price on his head. But when a mysterious cowboy gets between her and her target, Glory accidentally shoots him instead. Flustered, she has no option but to take the handsome stranger home to treat his wounds.
Former Texas Ranger Luke McClain didn't plan to fall in love, but there's no denying the strength of Glory's will or the sweetness of her heart. But Glory's been burned before, and Luke will have to reach into the depths of his own battered soul to convince her to take a chance...
And trust that love is worth fighting for.
**ARC provided by publisher in exchange for an honest review**
After reading and enjoying the first book in the Texas Heroes series, I knew I wanted to get my hands on Luke's book. I probably have mentioned it a couple of times, but I am going to do it again: Historical Western Romances are my not-so-guilty pleasures. I have devoured hundreds of them already, and still can't get enough of them. However, I am pickier with my choices. Let's get back to this book. I enjoyed it but didn't love it as much as the first book. The characters were great and I loved all the different personalities shown in the book. The main female character Glory is a very strong and independent woman, who is providing for her two younger sisters and mother. There was just so much weight on her shoulders. Then there is Luke, who was introduced in the previous book. Who is a former Texas Ranger and has a couple of unfinished business.
I loved how Glory and Luke met. She is definitely NOT a woman who you want to mess with. Luke was very mysterious towards Glory and her family, but he was an expert in getting in everyone's good graces except Glory's. She was suspicious of him and did her best to keep a wall between them. There was some misunderstandings that could've been resolved if they just talked it out. But I can't blame Glory for keeping her feelings to herself, she didn't want to put herself out there to be turned down. I enjoyed the banter between Glory and her youngest sister Patience. She was just such a sassy young girl. She was hilarious and had Luke wrapped around her finger. What I loved the most was the development of the relationship between Glory and Luke. The author took her time to have these two get to know each other. However, in the end it was a bit rushed and there was no epilogue which left me wanting more. Nonetheless, this was a very enjoyable and solid historical romance with great characters. I am looking forward to the next book in the series.
A light touch on Glory's shoulder gave her a start. The hand surely belonged to Luke, for only he could loosen this flurry inside. She blinked several times, cursing the inability to see what he held. At last the item came into view.
A toothbrush. A real one.
Glory whirled. Every well-planned, scathing remark vanished, not even the mere footprint of one remained in her head. She cradled the treasure with wonder.
"You hankered for one of these the first time I saw you in the emporium. I also recall how you had to bite your tongue to keep from giving those girls their comeuppance." Quiet challenge lay beneath Luke's words. He dared her to refuse something she so desired. If she could.
Moral indignation that had burned so hotly before deserted her. "I thought you didn't notice me that day. You appeared quite taken with the…other patrons."
"Oh, I noticed."
In a Monday that held more twists and turns than a dog's hind leg, his barely audible reply and intent stare added yet more bewilderment. Why did he have to go and make her forget her outrage? Awfully difficult to harbor a grudge when he seemed intent on filling her head with hope.
She stared at the object in her palm, afraid it would fade into thin air as the genie in the Arabian Nights had. Fairy tales were for children, not grown women who knew better. McClain couldn't be Aladdin—unless he whipped out a magic carpet. This night she wouldn't rule out anything.
"Say something, Glory." Hope gave her a sharp poke.
Patience grinned. "If you wanna kiss him, we'll hide our eyes."
Hell's bells! If she didn't die of mortification, it would be a sheer miracle.
"I know you want to," Patience crowed. "Leastways, that's what you wrote in your private book."
"What kind of woman would pass up a kiss?" Luke raised her chin with the lightest of nudges.
Her legs threatened to buckle. Powerless in the spell of his gaze, she marveled at the rakish curve of his mouth. The essence of him wrapped around, over, and inside her as she gladly stepped onto his magic carpet.
One more kiss wouldn't hurt anything.
A sudden scurry of feet seemed in the distance. Glory's ears pounded. His frenzied heartbeat jumped through the fabric of his shirt. She sank into the curve of his arm because he stole her will to step back.
The kiss that began with tender softness deepened. She shuddered under his caress, a piece of clay in the hands of a master.
Her feverish skin throbbed with some strange need she didn't comprehend. She only knew if she died in his arms this second, she would depart the world in a state of bliss.
When he lifted his head at last, she would have fallen without his steadying support. She rested her face on his broad chest for a moment to still the dizzying whirl.
"Thank you." His murmur came faint as a breeze through willows. His ragged breath ruffled her hair.
A few seconds later, she remembered where they stood and the liberties she'd allowed. Never before had she been so carefree. Or so warm. "Good heavens!" She patted her hair, giving the room a sweeping glance, relieved to find it empty. "I don't know what came over me."
"Whatever it was, I hope it remembers the way back."
She groaned inwardly and lowered her eyes before he saw the answer. For the cost of a handful of wind she would stand before the preacher with him.
Darn him and his magic carpet!
Fact remained, no amount of wishing could erase the truth. Her father left…and so had her mother, though each in a different way. At the end of the day, she could put faith only in herself.
What hand of fate had flung him into her life? The man seemed to take extraordinary liberty in assaulting her with his presence at every turn—with no intention of staying.
"I need to ask where you got the money to pay off our note—and buy all this." The pain inside made her voice sound cold.
"Will it matter?"
Glory wished for things that could never be. To stifle yearnings that swept her along like a dandelion in a sudden gust would take more will than she possibly had. And even more impossible…blocking the knowledge that she could forgive all else as long as he promised to never leave. She gripped the toothbrush. "I must know."
"In my own time." He brushed her cheek lightly with a fingertip.
Only after she could do a sight more than melt did she dare raise her eyes. "You've involved us in whatever it is you do."
"Fair enough. First tell me what you were doing with your esteemed Dr. Dalton."
Anger put her on familiar ground. She rested her hands on her hips and jutted her chin defiantly. Magic carpet rides were for damsels without obligations and those who could afford to daydream. "He's not my anything. And I don't have to justify it. Don't let us keep you from wherever it is you need to mosey on to."
"Fire and damnation! I'm trying to help."
I live in the Texas Panhandle on land they call the Llano Estacado where the Native Americans once roamed. History is so thick here with the ghosts of the people who settled this land. I love writing western historical romance and can't imagine writing anything else. I love a man in a Stetson and tight pants. Oh man! Those cowboys sure make my heart beat faster.