Release Day Review: Right Where We Belong by Brenda Novak
Book 4 in the Silver Springs Series
Genre:
Contemporary Romance
Publication Date:
October 31, 2017
Savanna Gray needs a do-over. Her "perfect" life unraveled when, to her absolute shock, her husband was arrested for attacking three women. With her divorce settled, she takes her two children home to Silver Springs to seek refuge between the walls of the farmhouse where she was born. It needs a little TLC, but she's eager to take control of something.
Gavin Turner understands the struggle of starting over. Abandoned at a gas station when he was five, it wasn't until he landed at New Horizons Boys Ranch as a teen that he finally found some peace. He steps up when Savanna needs help fixing things—even when those things go beyond the farmhouse.
Despite an escalating attraction to Gavin, Savanna resolves to keep her distance. She trusted her ex, who had a similarly tragic background, and is unwilling to repeat her past mistakes. But it's hard to resist a man whose heart is as capable as his hands.
**ARC provided in exchange for an honest review**
Right Where We Belong is a light contemporary romance, and kept me engaged until the end. After Savanna's husband gets arrested, she decides to take refuge in Silver Spring. There her parents left her an old house that needs major renovations. She wants to start over with her two children and decides that Silver Springs fits the bill. When she arrives she meets her only neighbor, Gavin. I really loved how Gavin and Savanna met, and how their relationship developed. Gavin was such a nice guy that loves to help out people. He is a great support to Savanna, and they both feel a strong attraction to each other. Savanna, is hesitant because she just got out of her marriage and doesn't feel ready for a new relationship. And when Gavin is hit with a news, that can change his life, he decides to put some distance between Savanna and him.
This book was a nice contemporary romance, however I didn't feel a strong connection to the characters. They had great chemistry together, and I believed in that. However, things developed a bit fast in my opinion. This made it harder for me to fully connect. There was some suspense added to the story, which I enjoyed. But after that was done, the story was done, and it left me wanting more. The epilogue wasn't enough to complete the story for me.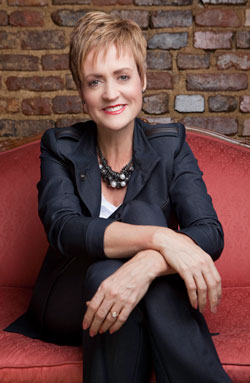 Brenda and her husband, Ted, live in Sacramento and are the proud parents of five children—three girls and two boys. When she's not spending time with her family or writing, Brenda is usually raising money for diabetes research. Her youngest son, Thad, has diabetes, and Brenda is determined to help him and others like him. She also enjoys traveling, watching sporting events and biking–she rides an amazing 20 miles every day!