Release Day Review: Until You Loved Me Brenda Novak
Book 3 in the Silver Springs Series
Genre:
Contemporary Romance
Publication Date:
July 25, 2017
Sometimes starting over means finding everything you've been missing…
After catching her fiancé cheating—with another man–usually straight-laced, workaholic scientist Ellie Fisher liberates her wild side just long enough to indulge in a passionate one-night-stand with a tall, dark stranger she meets at a trendy Miami bar. Embarrassed by her recklessness, she ducks out the following morning without learning the guy's full name, something that shouldn't have been a problem…until a pregnancy test turns positive.
Being a professional football player, Hudson King has always been cautious around women. But this one had been different—so disinterested in his celebrity, so convincingly into him. When Ellie tracks him down, claiming she's carrying his baby, he's stunned. And more than a little betrayed.
But after growing up as an orphan, he'll do anything to stay involved in his child's life, so he urges Ellie to move to Silver Springs where they can co-parent. Hudson has a lot of love to give—certainly enough for his child, and when their initial spark reignites, perhaps for Ellie too…
**ARC provided in exchange for an honest review**
Until You Loved Me is a beautiful romance story between Hudson King, a professional football player who has trust issues, and Ellie Fisher, a scientist who just got out of a long term committed relationship. Right away I really liked both of their personalities, I thought they were a great match for each other. Hudson tries to stay hidden at a bar when he notices Ellie sitting on her own, and he decides to approach her. Ellie has no idea he is a famous NFL player, but feels an attraction and decides to spend some time with him. I loved that she didn't know who he was, and that was also the main reason why Hudson really liked her. She decides to spend the night with him, which is something so out of her normal behavior. However a couple of weeks later the pregnancy test turns positive.

When she finally figures out who Hudson really is, she has some doubts if she wants to notify him in fear of him suing for custody. Hudson is still scarred from what happened to him in the past. I could totally understand why he had trust issues and tried to keep a distance. When they finally meet again, things get very heated and not in a good way. Hudson says some things that are very out of line, and my heart broke for Ellie. When they finally come to a decision about the future of their baby, things start to go the right way. I loved the way their relationship developed. The author did a great job with this book, I also loved the mystery aspect about Hudson's past. It added an extra element to the story which I really enjoyed. I am looking forward to reading the other books in the Silver Springs series.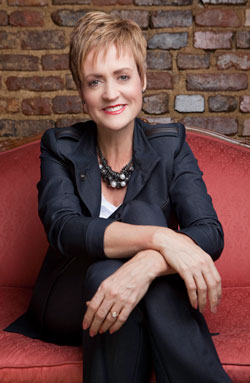 Brenda and her husband, Ted, live in Sacramento and are the proud parents of five children—three girls and two boys. When she's not spending time with her family or writing, Brenda is usually raising money for diabetes research. Her youngest son, Thad, has diabetes, and Brenda is determined to help him and others like him. She also enjoys traveling, watching sporting events and biking–she rides an amazing 20 miles every day!