★ ★ Release Day Blitz ★ ★ Excerpt + Teaser - DYLAN by Jo Raven
★ ★ Release Day Blitz ★ ★ DYLAN by Jo Raven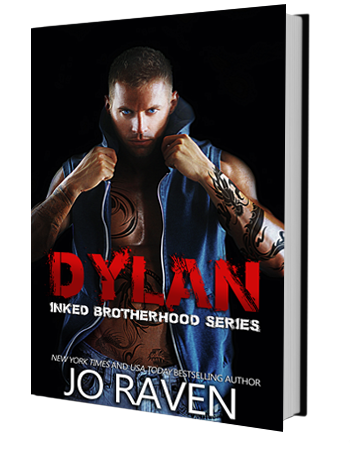 *Warning: this book contains graphic language, sex, and violence. Mature readers only. Not intended for young readers.*
Synopsis
When you've tried your best for years and never managed to please your demanding parents… When you've fallen head over heels for someone who keeps ignoring you… When you've hit rock bottom. Tessa is this close to giving up – on her authoritative parents and their demands, on her studies, on everything in her life. Including Dylan. The one boy she has loved since she can remember. The one who dated her and promised her forever when they were fourteen, and then dumped her without an explanation only to ignore her ever since. The one who shows up to save her from the hands of her abusive ex before the stroke of midnight, who kisses her and holds her close, only to tell her in the course of the same night he doesn't love her. Tessa knows Dylan has gone through some tough times, and they're only getting tougher - but is he telling the truth about his lack of feelings for her, or is he running from his own demons? The way Tessa sees it, she has two options: run away, leaving it all behind - or stay to fight against her controlling family, and win back Dylan. She has a feeling he needs her, and how can she leave when he's the only man who's ever made her feel alive?
Standalone novel. No cliffhanger. *Warning: this book contains graphic language, sex, and violence. Mature readers only. Not intended for young readers.*
Buy Links
Excerpt:
The familiar chatter fills my ears as soon as I step inside, and I grab a juice. As I wait to pay, I absently scan the tables. Wild hair, wilder clothes, outrageous make-up. Your typical college students.
Except the guy sitting alone at a table in a corner. No wild hair or clothes, and yet he snags my gaze, hooks me and reels me in. I study the familiar close-cropped blond hair, the beautiful profile, the powerful shoulders stretching his gray sweater.
Dylan.
My turn comes to pay for my juice, and instead I drop my purse and spill coins everywhere. Laughter ripples around me. Yeah, your typical college student is also easily amused.
Mortified, I glance in Dylan's direction, but he seems lost in thought. Thank God. I pay and clutch my juice like a shield in front of me as I make my way toward him. After thinking about Sean, Dylan's presence makes me feel better. Safe. Warm.
So I approach, taking him in. He's dressed in well-worn jeans and that old sweater he's had since high school. He needs no expensive suits. With his broad shoulders and trim body, he's so hot he'd put any male model to shame.
It strikes me how much he's grown from the boy he was when we dated. Even from the boy he was a year ago, with the purple bangs. It's like he's shed all playfulness, all childishness, as if he had to give it up overnight.
Not sure why, but it makes me sad for him.
"Hey," I say, and sit across from him.
He starts, pushing back from the table, and I frown as I notice the dark bags under his blue eyes, and how thin his handsome face has become. He hasn't shaved for at least a couple of days, and his jaw is covered in golden stubble.
"Tess," he whispers, and my breath catches. He never calls me that nowadays. "What do you want?"
"You didn't show up in biology class," I say, before I lose my nerve. "And I haven't talked to you in a while. Is everything okay?"
"Fine," he mutters.
"You've missed many classes already."
"I never enrolled in that class. Or any class."
"You never…" My brain stalls. "Then why did you show up on the first day?"
"Because I hoped I could do this," he snaps, and it's my turn to flinch. "I'm not enrolled in college. Not anymore."
"That's a pity," I whisper. My chest aches.
He gets up. "Look, I've got to go."
"Yeah." I nod, finally accepting what Audrey has been telling me all along. "Take care, Dylan."
His eyes narrow. "You too. What's this about?"
"This is about me," I say and unscrew the lid off my juice with shaky hands.
"What do you mean?" His face is pale, the silver ring in his lip glinting dully in the fluorescent lights of the cafeteria.
I force myself to look away. "I mean," I say softly, "this is goodbye."
About the Author
Jo Raven writes New Adult contemporary romance. She loves sexy bad boys and strong-willed heroines, and divides her time between writing and reading. When not cooking up plots, she putters in her cluttered kitchen and dreams of travelling.
Stalker Links: