Blog Tour : Excerpt & Teaser + Giveaway - Resist Volume One by Missy Johnson
Publication Date: December 9, 2014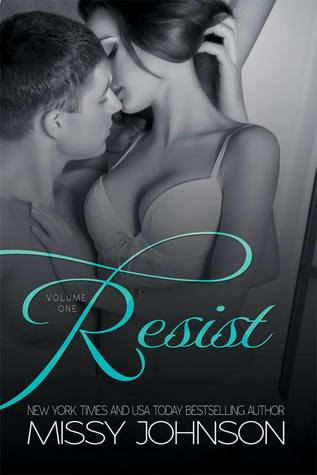 Synopsis
Position vacant… Successful, attractive male requires a full-time, live in assistant. Please note; this is no ordinary position. If voyeurism and explicit fantasies are likely to offend, do not apply. The successful applicant will be female, attractive and very self-confident. I am not looking for a slave, or a submissive. I'm after a challenge. Fight me. Resist me and you will be rewarded…
EXCERPT
A bang on my door interrupts me just as I'm about to come. I groan and compose myself as the banging continues. I fix my clothes and then stand up, walking over to the door to release the lock. Ryan stalks in, annoyed. He throws a glare in my direction.
"You were supposed to have the Ferriman and Legana accounts to me yesterday. Do you know how much money the company will lose if they walk?" He laughs, throwing his hands up as he sinks into my chair, behind my desk. "Wait, what am I talking about? Since when do you care what the fuck is happening with this company?"
"Hello to you too, Ryan," I reply smoothly.
"No, don't give me that," he rants angrily. "Everyone else might tiptoe around you because you're a psycho son of a bitch, but I'm done. Either you put into this business that I've worked my ass off to keep afloat, or get out."
"You forget that I own 51% of your precious company," I point out, leaning against the window. "And if you had checked your email before you came storming in here, you'd see the two files you requested are sitting in your inbox."
I watch, amused, as he whips out his phone, not bothering to hide my satisfaction as embarrassment begins to resinate on his face.
"It's still late," he sulks, not meeting my eyes.
"What is this really about?" I ask. "We both know I do more than my fair share to bring business into the company, yet your always on my back."
"Because you're a pathetic little cunt who gets away with everything," he retorts, his face going red. He glances at my laptop, at Charlotte who is still lying on her bed. "Perfect example. You invest more time in your little whores, yet somehow everything works out for you. This one must be new. I haven't seen her before," he adds, studying Charlotte again.
I reach over and close the laptop.
"Maybe your attitude toward me is misplaced jealousy," I say. His eyes darken and I grin. Just the reaction I was hoping for. "I mean, you're stuck at home with a woman you don't really love raising three kids who resent you."
"I'm warning you, Jaxon. Don't go there," he says, gritting his teeth.
"Take your empty threats and get the fuck out of my office." I speak in a calm voice, my eyes not leaving his. "You lost any chance of me respecting you the day you decided to fuck my mother."
He rises from my chair. "You need to let that go, Jaxon. It was one time, and it was a mistake. If your father could forgive me, then why can't you?"
"Did your wife forgive you? Oh wait," I pause, smirking. "She never found out, did she? And what about your kids? That pretty daughter of yours must be pushing eighteen right?"
He walks over to me and lodges his forearm against my neck. I grin, which only infuriates him more. "Stay the fuck away from my family, Jaxon, or I swear on my life—"
"What?" I taunt. "You kill me? Your precious little girl will be legal in a few weeks, Ryan. I've seen the way she looks at me. If I gave her the time of day you know she'd spread those legs for me in a second. You think you know what I'm capable of? You don't know shit. Your tiny brain couldn't even comprehend some of the kinky, degrading shit I'll have her doing for me."

TEASER
About Missy Johnson

Missy lives in a small town in Central Victoria with her husband, and her confused pets (a dog who think she's a cat, a cat who thinks he's a dog…you get the picture). When she's not writing, she can usually be found looking for something to read.